Hunter Biden continues to attract scrutiny, criticism, and misleading claims amid House Republicans' plans to investigate President Joe Biden's son's business dealings and establish any possible links with his father.
The latest among the claims targeting Hunter Biden asserts that some of the top U.S. intelligence officials, who signed a letter suggesting the "Hunter laptop" story could be disinformation, had in fact known that to be false.
Plus, Newsweek Misinformation Watch digs into the "fake arrest" narratives prompted by the video of Swedish activist Greta Thunberg being detained in Germany, speculation around the crash of a Ukrainian government helicopter in Brovary, and a resurfaced claim purporting the CIA "knew" that Hitler fled to Argentina.
Claims "intel chief" admitted to knowing the Hunter Biden laptop was "real"
The resurgence of this story was prompted by a recent interview by Douglas Wise, a former Defense Intelligence Agency deputy director, who was one of more than 50 signatories of a public letter, issued on October 19, 2020, casting doubt over the provenance and veracity of the Hunter Biden emails "leak".
"Misinformation got Joe Biden elected. Ex-Intel Chief admits to knowing Hunter's laptop was real, but lied anyway," said one of hundreds of social media posts referencing the Wise interview, which was also picked up by a number of conservative outlets.
But while the revelations made by Wise, speaking to The Australian, do add some insight into the way the intelligence community approached the laptop reports, they barely amount to a shift or reversal of the original stance, which Newsweek has detailed in previous explainers.
Even at the time the letter was written, the actual existence of the laptop (or indeed whether it had belonged to the president's son) was hardly in doubt. The experts and directors stated that, while there was concern that the laptop had the potential to be linked to Russian disinformation efforts, it did not say that the existence or (at least some) contents of the laptop were not genuine.
"We want to emphasize that we do not know if the emails, provided to the New York Post by President Trump's personal attorney Rudy Giuliani, are genuine or not, and that we do not have evidence of Russian involvement—just that our experience makes us deeply suspicious that the Russian government played a significant role in this case," the letter said.
The letter also stated that if the laptop reveal were part of a Russian disinformation effort it would be "consistent with Russian objectives…to create political chaos in the United States and to deepen political divisions here but also to undermine the candidacy of former Vice President Biden and thereby help the candidacy of President Trump."
Similarly, the latest comments by Wise have been stripped of some crucial context in the social media posts. The former official denied having regrets about signing the letter because "a significant portion of that content had to be real to make any Russian disinformation credible."
"The letter said it had the earmarks of Russian deceit and we should consider that as a possibility; it did not say Hunter Biden was a good guy, it didn't say what he did was right and it wasn't exculpatory, it was just a cautionary letter," Wise told the Australian publication.
He further accused the letter's critics of misinterpreting or misrepresenting its contents and core message, noting the "chain of custody of the laptop," Russia's track record for similar "influence ops" and Giuliani's "intelligence gathering" efforts in Ukraine as factors leading up to the group's statement.
"I don't regret signing it because the context is important: remember Giuliani had just been in Ukraine trying to dig up 'evidence' on the Bidens and he met with a known Russian intelligence official," Wise said.
While no clear evidence has emerged that Russia was behind the laptop's appearance or leaking of some of the communications, the notion that its existence was denied or dismissed by national security officials, though persistent, is misleading.
Much of the material published in connection to the laptop has since been verified, and may yet yield charges against the president's son currently under investigation by the Department of Justice.
But at least some of the fears expressed in the letter were proven to be justified, as mislabeled or entirely false content purportedly sourced from the laptop and debunked by fact checkers, has since spread on social media.
Controversy around "Behind the scenes" video of Greta Thunberg's "arrest"
Climate activist Greta Thunberg was accused by social media users of staging a "fake arrest" after she was detained during a protest in Germany.
"Ladies and gentlemen, the staged 'arrest' of Greta Thunberg Rothschild. Thank you Greta, for exposing the climate agenda as a total hoax once and for all," a post on a conspiracy subreddit claimed.
The video quickly spread on Twitter and Telegram, spurred by climate change deniers and prominent conservatives, such as Laverne Spicer.
But while the footage of Greta surrounded by the police does appear to be genuine, the narratives about the incident are based on a false premise that she was arrested.
In fact, as various news agencies reported at the time, Thunberg, 20, was briefly held by law enforcement Tuesday while protesting the expansion of a coal mine in western Germany.
According to Reuters, the young activist, along with a group of protesters, were warned by police that they would be "removed by force" if they did not vacate the mine site.
Other reports, citing police statements, said the activist "was not arrested but was instead carried along with other protesters for identification," and "released after a brief detention."
Thunberg herself described the incident on her Twitter page:
"Yesterday I was part of a group that peacefully protested the expansion of a coal mine in Germany. We were kettled by police and then detained but were let go later that evening."
Though Thunberg's civil conversation with the officers detaining her was being framed as damning evidence of the whole scene being staged, both the activists and the officers appeared to be complying with German laws, so there appears to be little reason for any antagonism or brutality to flare up.
Whether or not her interactions with the police were dramatized for the cameras—a claim she's yet to address directly—the fact remains that she was forcibly removed from the premises and briefly detained, as confirmed by German authorities, undermining the narrative that the whole incident was "staged."
Helicopter crash near Kyiv fuels speculation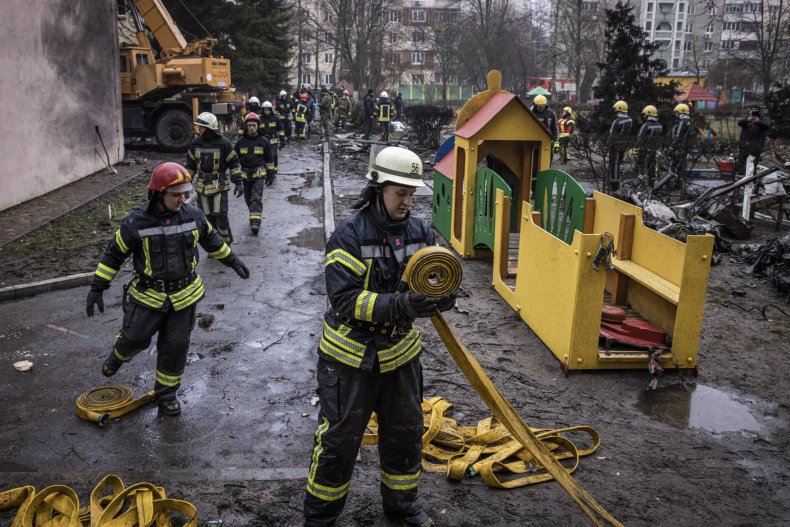 Ukrainian Interior Minister Denys Monastyrsky was among at least 15 people who died on Wednesday in a helicopter crash near a kindergarten in the Kyiv region, including three children. Another 25 civilians have been wounded, according to Ukraine officials, with rescue efforts continuing on Wednesday afternoon.
Horrific photos and footage from the scene, some of which has since been verified by news outlets, flooded social media. But news of the crash also set off the rumor mill, as speculative claims about the possible causes and who could be behind it quickly filled up the information vacuum around the incident.
Some comments speculated about the make of the helicopters, noting that the French-made Super Puma had previously reported defects that led to a drop in international sales, though no evidence has been presented yet to confirm this theory.
At least some of the posts appeared to tie into or promote pro-Kremlin narratives. Among those were posts on Twitter and Telegram suggesting, without evidence, that the helicopter was shot down by a Ukrainian air defense missile, echoing similarly misleading claims about the recent deadly shelling of a Dnipro apartment block.
There is currently no available evidence of foul play being involved, either from Ukraine's or from Russia's side, even as Ukrainian officials, for now, have said they "do not dismiss any scenario."
Initially, poor visibility due to foggy weather was cited as the likely contributing factor; in the most recent statement, the Security Service of Ukraine outlined three possible reasons the investigation is focusing on: Pilot's error, a technical issue, or sabotage.
But officials also warned that the investigation could take months to conclude, meaning that any claims purporting to offer an explanation are speculative at best, or plain false.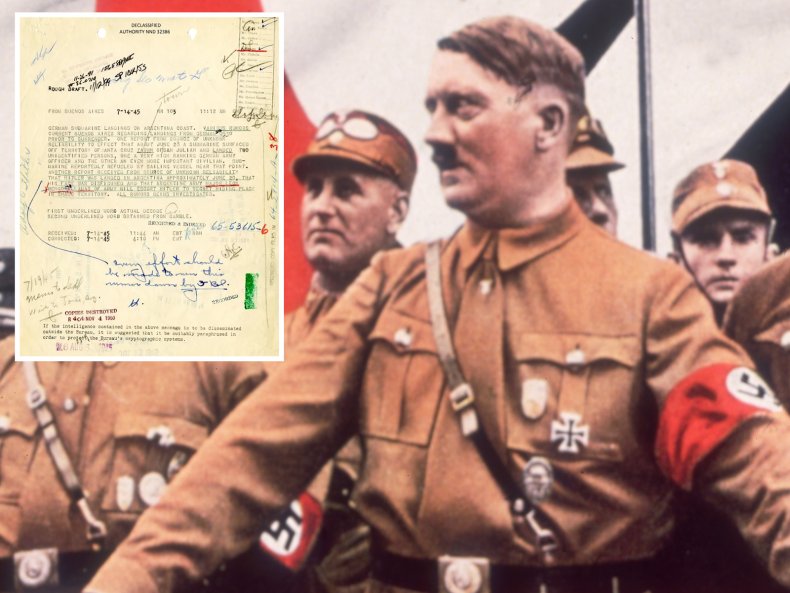 Did the CIA know about Hitler's "escape to Argentina?"
Conspiracy theories about Adolf Hitler's purported flight to Latin America have persisted for decades, fueled in part by the grain of truth in some of the Nazi's officers genuinely seeking refuge across the Atlantic.
The claims have been thoroughly debunked by historians and even the Nazi dictator's teeth analysis, but they have been given a new lease of life on social media, where they continue to resurface, often misleadingly wrapped in newly-discovered data records.
In the latest example of historical revisionism, screenshots of "CIA files" have been shared alongside claims that they "prove" that the Fuhrer fled to Argentina.
"CIA report of June 20, 1945. Hitler transported to Argentina," a Forbidden History Twitter post with more than a million views claims.
Other users reposted or shared the screenshots too, attracting thousands more views and interactions on the social media platform.
However, as HoaxEye and other misinformation monitoring researchers have pointed out, the document merely reflects a record of the FBI and other U.S. agencies fielding reports about Hitler's supposed survival in the years following the war.
A collection of such reports, including those investigated by U.S. intelligence, can be found on the National Archives website, and while agents had to address the reports, there is no evidence that any of the claims had been corroborated, or that any other evidence to support the conspiracy narratives had been established.